COURSE DETAILS
2021 DATES
Biology and Sociology: June 15-29
English and Sociology: July 9-23
COURSE DESCRIPTIONS
SOCI 270 - Irish Historical Sociology
(Every session includes this course)
This is a course on Irish Historical Sociology and fulfills the university social science requirement. Dr. White's course analyzes the waves of human migration that have come to Ireland over the past 10,000 years and how each wave of migration has contributed to contemporary Irish identity.
BIOL 114-5 - Biodiversity and Conservation in Ireland
(June 15-29)
This course fulfills a science requirement and explores Irish biodiversity first-hand by visiting a variety of natural habitats including coastlines, river estuaries, midland farm, and the Burren. The course also addresses current Irish conservation issues and their implications for Ireland's diverse ecosystems.
ENGL 205-375 - English Literature and the Arts in Ireland
(July 9-23)
This course integrates Irish writers and plays as part of the course and fulfills the university Literature requirement or the core Lit & the Moral Imagination requirement. It includes attendance at the Galway Arts Festival and at least one live play performance.
COURSE FEES
The fees for this program include 6 credit hours of Xavier tuition and all costs in Ireland. All food, accommodation, local travel, and admission costs are covered. The total cost of the program is $3995. The fees do not include airfare.
COURSE PROFESSORS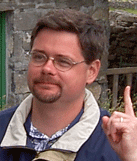 "The Ireland program is far and away one of the most incredible experiences I've had during my time at Xavier. Its faculty are more knowledgeable about their fields of study in relation to Ireland and impart an incredible wealth of information to the students. Even more impressive is the program's itinerary organization and the collective experience of faculty in the country. I felt like I was able to see the authentic 'behind-the-scenes' Ireland that most American travelers don't have the opportunity to see during a first visit. For me, the program's well-established Irish connections were the highlight of the stay because after leaving, I knew I had made friends for life." -Eli